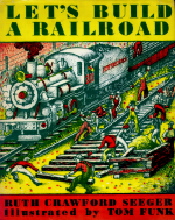 Let's Build a Railroad
, by Ruth Crawford Seeger
performed by Jody Diamond, Mary Ann Haagen, and Larry Polansky
for information, contact
railroad@frogpeak.org
PRESS RELEASE FOR FIRST PERFORMANCE | SEEGER CONFERENCE INFO AND SHORT BIO
---

Ruth Crawford Seeger: LET'S BUILD A RAILROAD
Children's Book with American folk songs about railroads
Performed by Jody Diamond, Mary Ann Haagen, and Larry Polansky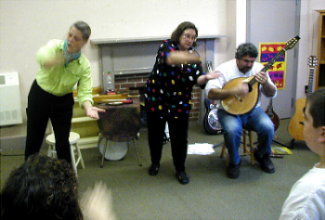 ---
Press Release for First Performance at Lebanon Library, June 30th, 2001
In honor of this year's centenary of Ruth Crawford Seeger, the great American composer and folk music scholar/educator, we are announcing the first of a series of free performances of her 1954, posthumously published children's book, LET'S BUILD A RAILROAD (illustrations by Tom Funk, published by Aladdin Books).
The book is a story about the building of Amerian railroads, interspersed with six powerful American folk songs about trains, which were beautifully transcribed and arranged by Ruth Crawford Seeger. Inspired by her writing and arrangements, we will read the story and perform the songs on a variety of instruments. We'll also talk briefly about Ruth Crawford Seeger, and her life as a composer, mother, teacher, writer and folksong scholar.
The first performance (which may be a world premiere!) will be at the Lebanon Public Library, Children's Section, Saturday, June 30th, 10:30 a.m in Lebanon, New Hampshire. All are welcome (thanks to librarian JoAnn Scobie for helping to make this event happen). The performance is intended for the whole family. We'll be playing lots of instruments, singing, and getting the kids involved in the songs. Please join us in celebrating the life of one of the most fascinating and extraordinary American musicians of the 20th century.
---
[The following is a short excerpt about Ruth Crawford Seeger, written by Ellie Hisama, a musicologist and Crawford Seeger scholar.

The conference mentioned below will take place on October 26 and 27th, Brooklyn College and the CUNY Graduate Center, New York City.]
RUTH CRAWFORD SEEGER
by Ellie Hisama, Institute for Studies in American Music, Brooklyn College <http://depthome.brooklyn.cuny.edu/isam>
The centenary of Ruth Crawford Seeger (1901-1953) is a timely occasion to consider the life, music, and cultural significance of an extraordinary composer and folk music activist. The first woman to be awarded a Guggenheim Fellowship in music, Crawford Seeger developed a unique modernist musical style in the 1920s and early 1930s. Her best-known work, the String Quartet 1931, stands as a striking example of modernist musical experimentation and establishes her as a brilliant and inventive composer. She was a vital participant in the "ultra-modern" school of composition in New York City, a group of composers that included Aaron Copland, Henry Cowell, and Dane Rudhyar. Through her transcriptions and arrangements of traditional American music, Crawford Seeger emerged as a leader in the folk song revival of the 1930s and 1940s, along with John and Alan Lomax and her stepson Pete Seeger.
[The conference/festival] Ruth Crawford Seeger: Modernity, Tradition, and the Making of American Music will focus on Crawford Seeger's influence on modernist composition and the Seeger family's far-reaching impact on the urban folk revival. During Crawford Seeger's lifetime, her music was enthusiastically endorsed by the composers Henry Cowell and Edgard Varèse, musicologist Charles Seeger (who was her composition teacher before he became her husband), and the music patron Blanche Walton. Shortly after her marriage to Seeger in 1932 and the birth of her first child, Michael, in 1933, she stopped composing and turned instead to the task of teaching music to children and of collecting, transcribing, arranging, and publishing folk songs, projects she would continue until her untimely death from cancer at the age of fifty-two.